Copernicus Glacier Service
Copernicus bretjeneste (page in Norwegian)
Background

The goal of the Copernicus glacier service is to monitor glaciers in mainland Norway and on Svalbard using the Sentinel satellites of the Copernicus programme. Read more about the project results and use of Sentinel imagery in our final report that summarises the work done from 2016-2021:
Andreassen, L.M. (ed.), G. Moholdt, A. Kääb, A. Messerli, T. Nagy and S.H. Winsvold. 2021. Monitoring glaciers in mainland Norway and Svalbard using Sentinel. NVE Rapport 3-2021, 94 p.
See also project presentation (17 February 2021) and all project related publications
Glacier products
We have tested using Sentinel for the following glacier products: 
Glacier outline, area and calving front
Glacier surface type and snow line
Visualization of data
NVE has developed the expert tool Xgeo for viewing Sentinel imagery and glacier products. A selection of glacier products can also be visualized in NVE's and NPI's web map services. Read more about these web-based visualizations here.   
Sentinel-2 image of glaciers in the Kongsfjorden area, Svalbard, 2 August 2016.
Contact
Liss Marie Andreassen, Section for glaciers, ice and snow, Norwegian Water Resources and Energy Directorate (NVE), Postbox 5091, Majorstua, 0301 Oslo, Norway. Project leader. (lma 'at' nve.no)
Geir Moholdt, Norwegian Polar Institute, Fram centre, Postbox 6606 Langnes, 9296 Tromsø, Norway
Andreas Kääb, Department of Geosciences, University of Oslo, Postbox 1047 Blindern, 0316 Oslo, Norway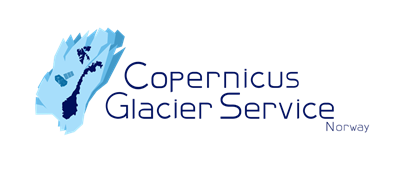 The Project Copernicus Glacier Service ('Copernicus bretjeneste' in Norwegian) is a cooperation between the Norwegian water resources and energy directorate (NVE), the Norwegian Polar Insitute (NPI) and the Department of Geosciences, University of Oslo. The service mainly use data from the Sentinel-2 satellite, with supplemental images from Landsat-8 and Sentinel-1. NVE and NPI are responsible for monitoring glaciers in mainland Norway and Svalbard, respectively. The Project was partly funded by the Norwegian Space Centre through Copernicus over 2016-2021.