Glacier surface type and snow line
Glacier surface type and snow line
Background
Snow cover and snowline vary throughout the season and are important indicators of the glacier mass balance.  Remotely sensed data makes acquisition of the snow cover and snow line altitude (SLA) possible over larger spatio-temporal scales. 
In the Copernicus Glacier Service project, we tested using Sentinel-2 for a selection of glaciers in Norway and Svalbard showing that Sentinel-2 images can be used for manual or automatic snowline and snowzone mapping (Andreassen et al., 2021). Moreover, Sentinel-1 imagery was used by Winsvold et al. (2018) that applied Sentinel-1 and RADARSAT-2 data over mainland Norway and Svalbard to acquire multitemporal SLA and categorize snow and ice zones on the glaciers.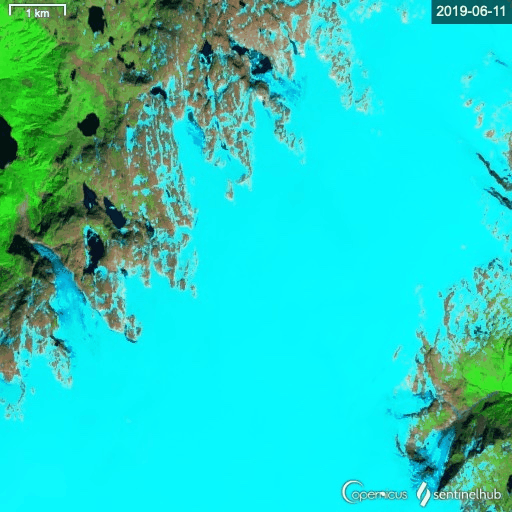 Time series of Sentinel-2 imagery of Folgefonna showing development of the transient snowline from June to August 2019.
Data of snowlines and snowzones for mainland Norway
A dataset of snowlines and snowzones are available for download containing:
Transient snowlines and snowzones for among others 10 mass balance glaciers for the period 2015-2019 using best end-of-season imagery. Snowlines and snowzones were manually digitized and images used are the best images closest to the end of ablation season.

Transient snowlines and snowzones for a selection of glaciers in Lyngen and Kvaløya from 2018 and Hardangerjøkulen from 2019 using manual correction of automatically thresholded result. Transient firnline and firnzone were included for Hardangerjøkulen 2019.

Transient snowlines and snowzones for a selection of glaciers in Jotunheimen. Snow zones were mapped using automatic thresholding for multiple dates in 2019
See Andreassen et al. (2021 for further details). Download zipped file: snowlines_snowzones_2021-02-16
References
Andreassen, L.M. (ed.), G. Moholdt, A. Kääb, A. Messerli, T. Nagy and S.H. Winsvold. 2021. Monitoring glaciers in mainland Norway and Svalbard using Sentinel. NVE Rapport 3-2021, 94 p.
Winsvold, S.H., A. Kääb, C. Nuth, L.M. Andreassen, W van Pelt, and T. Schellenberger. 2018. Using SAR satellite data time-series for regional glacier mapping. The Cryosphere, 12, 867-890, https://doi.org/10.5194/tc-12-867-2018. (pdf)